Poh Su Lin, Founder and AVS Accredited Dog Trainer
Su Lin has a wealth of experience in dog training. Her understanding of dog behaviour is the result of her many years living and working with dogs. She is currently an AVS (previously known as AVA) accredited dog trainer. She is also on the Project ADORE trainer's panel for all 5 AVS endorsed Rehoming Partners.
Because of her love for dogs, Su Lin left her full-time job as a school teacher to pursue her passion. It is her utmost desire to see dog owners cherish their relationships with their dogs so that dogs and humans live harmoniously together.
Su Lin now combines educating school-aged children with her love of dog training. She advocates using positive, gentle and compassionate methods in working with dogs. With commitment, patience and the right guidance to understand and communicate with dogs, all dogs can and will be good dogs.
Professional Qualifications and Memberships
Certified Professional Dog Trainer – Knowledge Assessed (CPDT-KA)
Diploma in Canine Behaviour (ISCP Dip.Canine.Prac.)
Professional Member of the Association of Professional Dog Trainers (APDT)
AVS-accredited Certified Dog Trainer (ACDT)
Diploma in Education (NIE)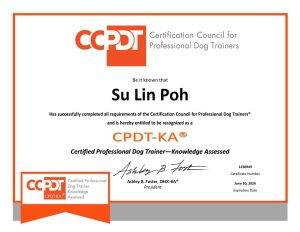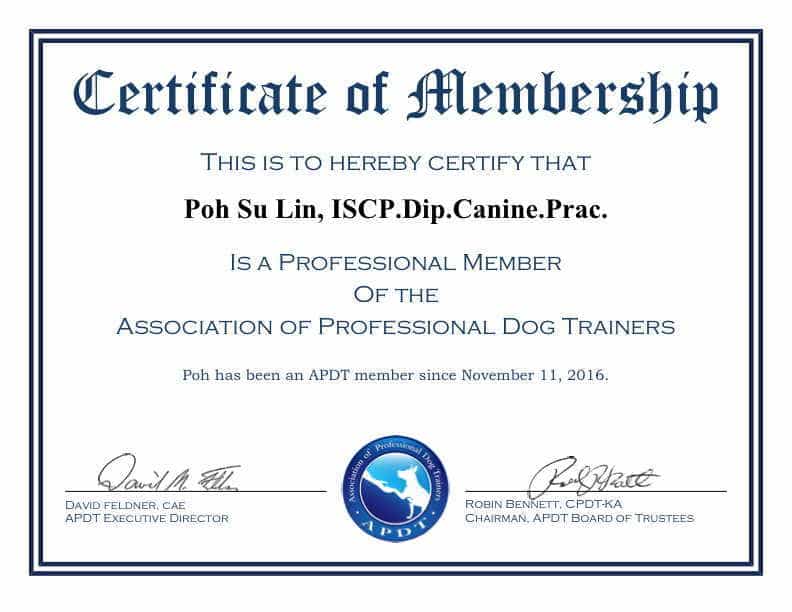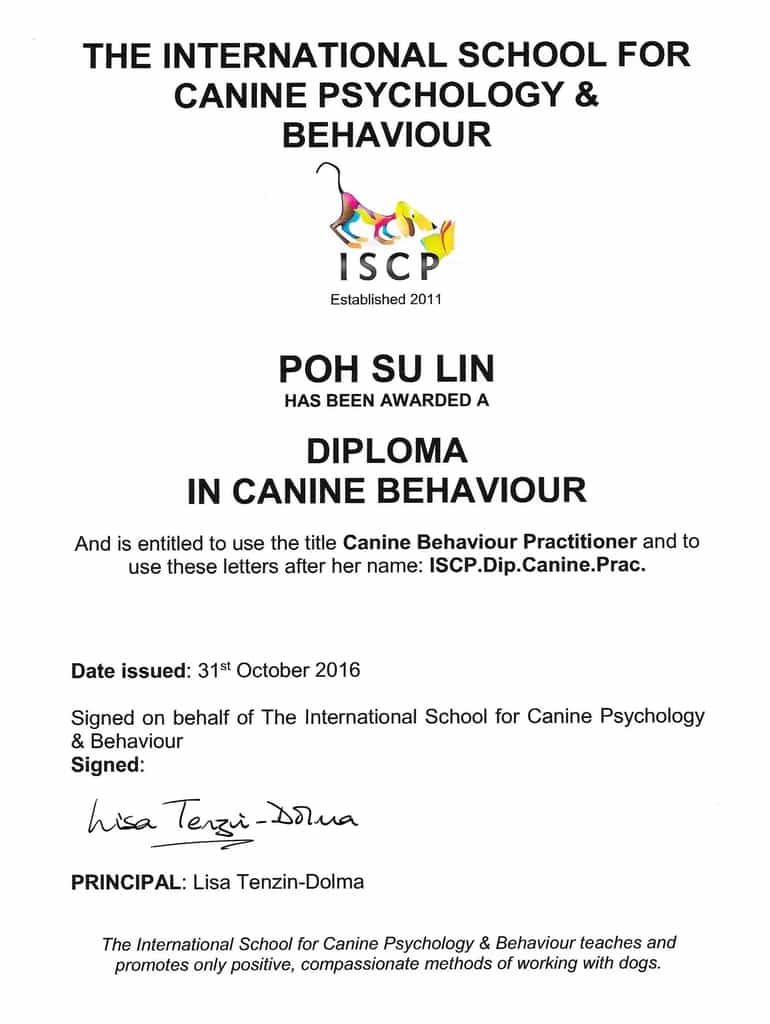 Volunteering Experience
SOSD (Save Our Street Dogs)
Duration: July 2012 to Oct 2017,
Designation: Shelter Officer, Training Advisor (Kennel).
Managing a team of over 200 full-time staff and volunteers.
Training and rehabilitating new rescues which have resulted in many fearful, aggressive and anxious dogs finding good homes.
Advising and managing various sub-teams within Team Kennel such as the Handlers' Training Team and Rehabilitation Team on matters pertaining to dog training and behaviour modification.
Leisure Pursuits
German Shepherd Dog Club of Singapore (GSDC)
Duration: 2004 to 2008.
Volunteer Trainer with GSDC.
GSDC Dog Demo Team member.
Attended dog training seminars in Germany, Malaysia, Thailand and Singapore.
Actively involved in competitive dog sports organised by the Singapore Kennel Club (SKC) and GSDC.
Su Lin and Dano scored a record 98/100 for SKC Obedience Trials in the Pre-Novice category.
Su Lin and Dano and were trained in Schutzhund Obedience and Protection. Dano qualified for his title under SV Working Judge Dr David Landau.
Kimberly Tan, AVS Accredited Dog Trainer
Kimberly is a passion-driven and hardworking individual, who gives her 110% once she puts her mind to it. Emboldened by her limitless love for dogs, she made the brave decision to leave her engineering job to make a career switch in early 2021. She is an Honours Graduate from the National University of Singapore.
Although a relatively new face in the dog training scene, she has a knack at dog handling with her innate ability to pay close attention to detail and she is quick to pick up on dog body language and assess each situation effectively.
An engineer in training, she has honed her problem solving skills to think up creative solutions to help manage unwanted behaviours. She is an advocate for reward-based, positive training and aims to make each training session fulfilling for both dogs and their handlers.
She aspires to touch dog's lives through training, helping to bridge communication gaps and achieve better understanding between 'pawrents' and 'furkids'. Ultimately, she hopes to see dogs integrate seamlessly with their families!
Her training philosophy is to always set the dog up for success and to look for rewardable moments in every situation! #yesgooddoggie
Professional Qualifications and Memberships
Certified Professional Dog Trainer – Knowledge Assessed (CPDT-KA)
Dog Trainer Professional – Karen Pryor Academy (KPA)
Certified Training Partner – Karen Pryor Academy (KPA)
Certificate of Completion: Puppy Start Right for Instructors – Karen Pryor Academy (KPA)
AVS-accredited Certified Dog Trainer (ACDT)
Honours Degree in Engineering (NUS)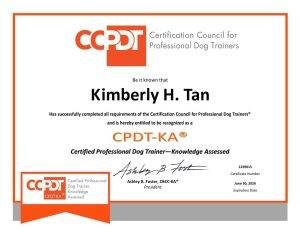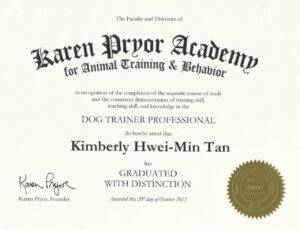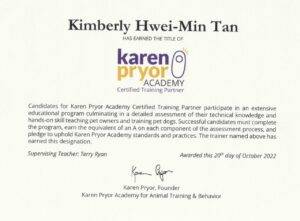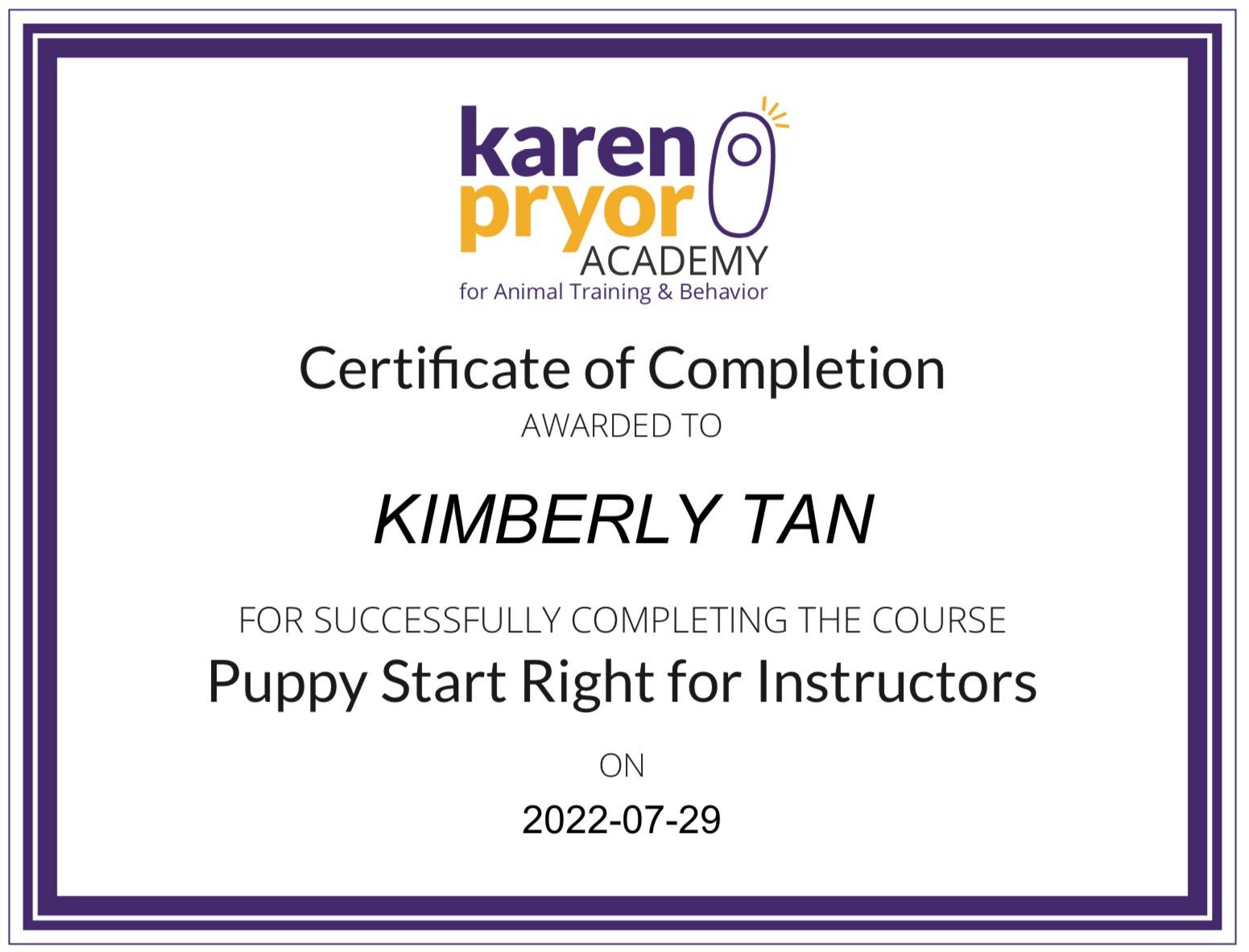 Volunteering Experience
Mercylight Animal Rescue And Sanctuary
Duration: June 2020 to present
Designation: Kennel Leader
Manages a team of 10 volunteers.
Onboard and train up new kennel volunteers.
On top of her kennel duties, Kimberly has enrolled and handled shelter dogs in Group Basic Obedience training courses. Through these obedience sessions, she has helped dogs to build up their confidence and come out of their shells. She feels gratified when she sees the boost in confidence once the dogs come to know what is expected of them!