Basic Obedience And Socialization Group Classes
Upcoming classes: Katong Park (starts Sat, Oct 13). Bishan Park (starts Sun, Oct 28). We are open for registration.
If you desire to bring up your dog as a good canine citizen, we conduct two Basic Obedience And Socialization Group Classes regularly – one in Katong Park and the other in Bishan Park. There will be six sessions in total.
Besides learning handling skills and obedience commands, our classes feature many opportunities for dog-to-dog and dog-to-human socialization and experiences involving real-world distractions like cyclists, joggers and people with umbrellas.
Class size will be limited so sign-up now to avoid disappointment.
You can find more information about these classes as well as other training programmes here.
Our Space @ Tai Gin
Our founder Su Lin was invited by the Toa Payoh West-Balestier CCC to be the guest speaker at the launch of Our Space @ Tai Gin, a purpose-built 1,911sqm community space comprising two hard courts and a dog run park (YAY!) located under the viaduct at 16 Tai Gin Road.
Congratulations to all involved for such a great initiative and we wish dog owners living nearby hours and hours of doggy romping fun!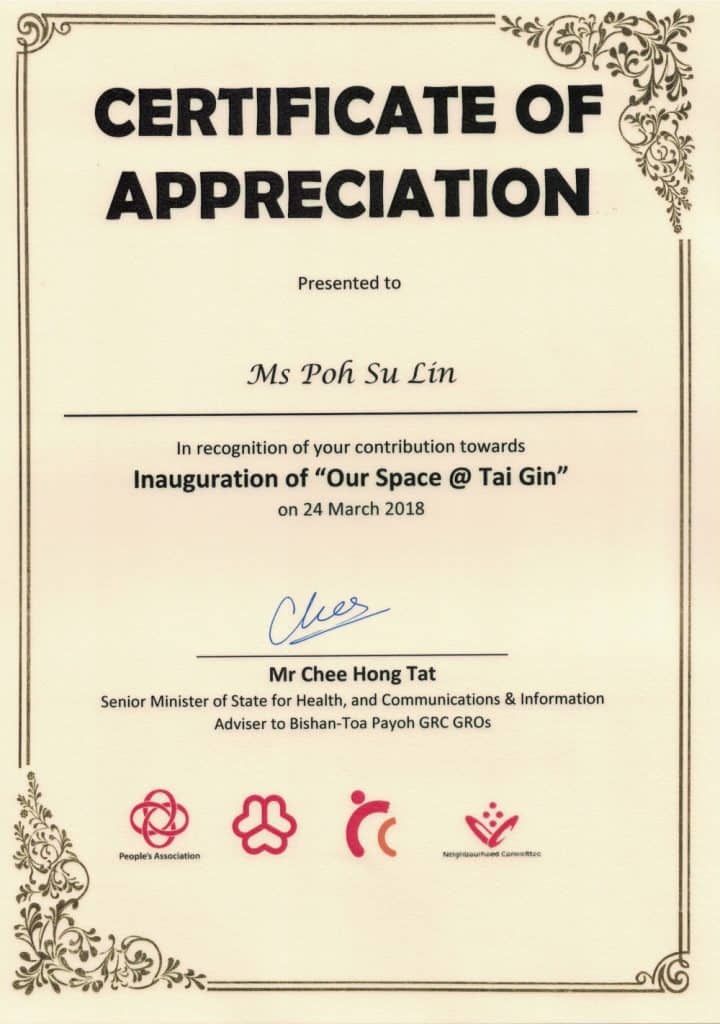 (For more information about Our Space @ Tai Gin, click here: https://www.sla.gov.sg/Portals/0/Newsletter/landJun18/SLA_JUNE_HTML/our-space-tai-gin.html)
AVA Accredited Trainer
Our founder Su Lin is an AVA accredited trainer.
As of 15 November 2010, the following types of dogs have to undergo basic obedience training by an AVA accredited dog trainer:
Newly licensed dog of a breed listed in Scheduled Dogs.
Dog assessed by the AVA to be aggressive and/or potentially dangerous.
Dog adopted under Project ADORE (HBD).
For the items 1 and 2, this also apply to the dogs that were already in Singapore before the regulation was put in place.
The Kawaii Factor
(Photo taken from: http://www.straitstimes.com/)
When Su Lin was shopping for a new car, one of the important factors she considered was how it would be when she ferried dogs in it. To find out more about this as well as how her car hunt went, click on this link: http://www.straitstimes.com/lifestyle/motoring/the-kawaii-factor
Volkswagen Owner Promo
(Photo taken from: http://www.facebook.com/volkswagencommercialvehiclesuk)
Enjoy 15% off Lodge and Learn packages and home-based behavioural modification sessions if you are an owner of a Volkswagen!
Valid till 31 June 2019.
Advanced booking is required.
Volkswagen car key is to be presented upon redemption.
Limited to one time redemption per NRIC and Volkswagen car key only.
http://www.volkswagen.com.sg/en/promotions/owners-privileges.htx
Doggy Drive Care
(Photo taken from: http://volkslife.com.sg/)
Looking for some tips on how to ferry your dogs around in your car? Well, you're in luck! In this special feature with VolksLife, a portal for Volkswagen owners in Singapore, you will learn valuable pet care tips from Su Lin. She offers obedience training and behaviour modification services for dogs. Read on to find out what she has to say by clicking on this link: http://volkslife.com.sg/doggy-drive-care/
Sleeping With Dogs
(Photo taken from: https://www.petsmagazine.com.sg/)
Su Lin was approached by https://www.petsmagazine.com.sg/ to give her opinion about whether is it okay for our dogs to sleep with us. You can read the feature here: https://www.petsmagazine.com.sg/wellness/others/377/should-you-sleep-with-your-pets
Two To Tango
Su Lin and her hubby Tony were long-time volunteers at animal welfare organisation https://sosd.org.sg/. Find out what they do and why motivates them to help the rescued strays and abandoned dogs. Read the story here: https://sosd.org.sg/meet-tony-and-su-lin/