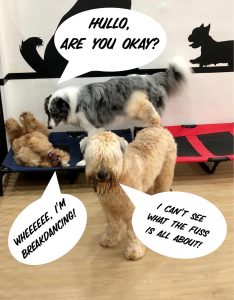 Do you want a safe, conducive and fun place for your dog to play and socialise with other dogs for an entire day?
Our Doggy Daycare is the right balance of indoor play, rest time and outdoor walks, and all of these are done under the watchful eyes of our experienced dog minders.
Your dog will be stimulated mentally and physically as it enjoys spending the day with us in our fully air-conditioned training school at 1D Figaro Street, Singapore 458322 as well as the scenic outdoors at Siglap Linear Park.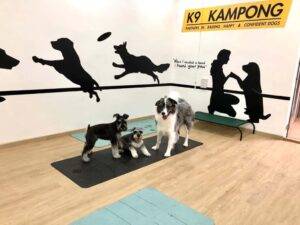 Programme
8.00am to 9.30am      Drop off and visual screening followed by outdoor walk
9.30am to 12.00pm    Supervised indoor play
12.00pm to 2.00pm    Rest time
2.00pm to 3.00pm      Outdoor walk and pee/poop time
3.00pm to 5.00pm      Supervised indoor play
5.00pm to 7.00pm      Unwind and get ready to go home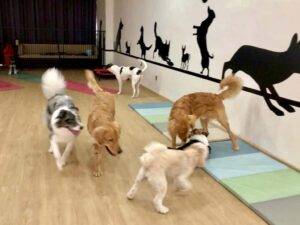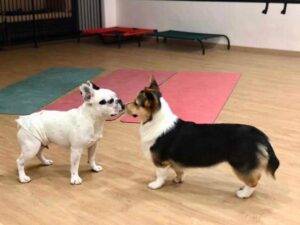 Temperament Test
All new dogs are required to undergo a compulsory temperament test. This allows us to assess if your dog is suitable for our daycare. The temperament test is complimentary but you must schedule it with us before the day your dog comes for daycare. We don't accept walk-ins on the day of the daycare, i.e. dogs that have not undergone the temperament test.
(Dogs that are reactive, aggressive, overly anxious, or shy, display territorial marking behaviour or any other unsuitable behaviour, are not suited for our daycare. We recommend engaging our canine behaviourist to work through these issues first)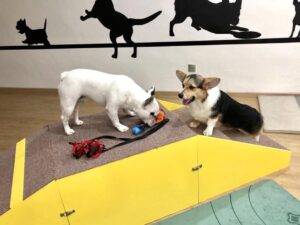 Physical Health
We take the safety and well-being of all dogs very seriously. Your dog must be up-to-date on all vaccinations and we require a copy of the health card to be emailed to us (k9kampong@gmail.com) before the daycare session. Ensure that your dog is free from ticks and fleas and that it's currently on tick and flea prevention.
(Dogs with infectious skin conditions or other health issues will not be admitted into our daycare)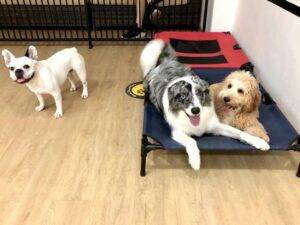 Duration, Drop-off And Pick-up
Our daycare hours are from 8.00am to 7.00pm. You can drop-off your dog between 8.00am to 9.30am and you pick-up your dog between 5:00pm to 7.00pm. There will be a surcharge of $20.00 for every hour outside these times.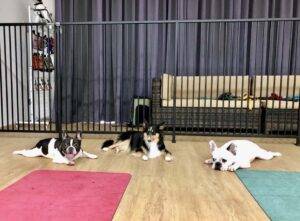 Rates
All rates are for per day and according to the weight of the dog.
Up to 10kg                                     $50.00
10kg to 20kg                                 $55.00
 21kg to 25kg                                $60.00
Above 25kg                                   $70.00
Sign-up for our package of 10 sessions and the 11th session is FREE!
(Note: Your dog must attend all 10 sessions within three months from the first session)
Add-ons
Swimming at The Naked Pet              $50.00 (30 min)
This session will be supervised by our Doggy Daycare assistant who is experienced in hydrotherapy with dogs. You can find out more about the pool here.
Leash and Obedience Training           $700 for ten 1h sessions
This programme is for dogs that pull and tug and demonstrate little or no awareness of the leash. Highly recommended if your dog is difficult to manage whenever you are outside.
Let your dog enjoy healthy social interactions with other dogs and revel in the love and care from our experienced minders.
Your dog will love our Doggy Daycare and most importantly, love you for choosing us!